Pre-race events are
here
, part 1 is
here
...
Miles 16-21
Ok, I am not proud of my performance on this next section. Before the race I told myself that I would walk the very first hill. Why? I don't know. I think I was scared after looking at the elevation chart.
As soon as I stopped, I knew I didn't need to be walking. But once you stop, you're not only stopping your physical momentum, but your mental momentum as well. Physically I felt good, mentally I was arguing with myself to keep running. And if I'm arguing with myself to keep running, that means
I can keep running.
Lesson learned: if you're going to argue with yourself to keep running, do it while you're running.
I walked part of mile 15 and part of mile 16, both times because I mentally gave in to my fatigue (in other words, I shouldn't have walked). The entire group of runners I had been running with on the trail passed me - and they all ran up the hill. And as I saw them go, I told myself that I hadn't busted my butt for the first 15 miles of the race, and run almost 10 minutes faster than my goal time, to lose all that progress in the second half of the race. So I put my butt back into gear.
Around mile 18 we hit an out and back section that has a nice downhill and a killer uphill. On my way out, I passed Strong Runner Girl on her way in. I gave her a thumbs up and she smiled back. I realized I wouldn't see her at the finish line, and wouldn't be able to thank her for helping me run this race so strong. So, Strong Runner Girl, if by some miraculous chance you've found my little blog and recognize who you are, THANK YOU!!!
As I began up the second part of the mile 18 hill (yes, this hill comes in two parts!), I started feeling a sharp pain in my chest. Considering the negative attention running sometimes receives, particularly after the
death of Micah True
, my paranoia immediately jumped to the worst case scenario, "I have
cardiomyopathy
and I'm going to die!" (yes, I'm
that
type of person). I had had this pain once before at the end of a long run (and clearly didn't die), and I resolved it by just finishing my run. To ease the pain this time, I decided to walk the hill and shed a layer (I was FINALLY warming up!), and see how I felt.
As I was walking, I remembered an episode of
Trail Runner Nation podcast
in which a runner relates her experienced with chest pain during the Angeles Crest 100. Apparently, she was running just fine when she suddenly felt a strong pain in her chest and had to stop for 20 minutes. Come to find out, it was a bout of
acid reflux
. So my thought process went from "I have
cardiomyopathy
and I'm going to die!" to "Hmmm, maybe I have something like acid reflux."
See, until mile 17ish, I had just been using my
Amphipod Hydraform Lite Water Bottle
for hydration. I was intending to refill my water bottle at an aid station...but things were going well and I didn't want to stop for that long, so I decided to just keep running and use the water at the aid stations instead. The 17ish mile aid station was the first one I used. I'm not at all coordinated, and while I know your supposed to pinch the cub and drink from it on the side of your mouth -- I mean, c'mon. I walk into walls daily, you expect me to drink from a cup and run at the same time? So instead, I slowed and took huge gulps of water...and air. Immediately after that aid station (here we go: tmi), I needed to burp but just couldn't get the air out of me. I felt the air bubble rise and then change its mind, and head south back into my stomach. I'm no medical professional, but I'm thinking that may have been a contributing factor to the chest pain. At the top of the hill, I did manage a small little burp, and found I felt fine, so I started the engine again.
The next few miles are a blur. Running through Antietam was absolutely beautiful...I think. I was pretty focused on the pavement, but the times I did remember to look around, I was stunned. At one point we passed 3 monuments lined in a row and I gave a little salute in memory of the soldiers who died here. Running through such a historical site was pretty incredible.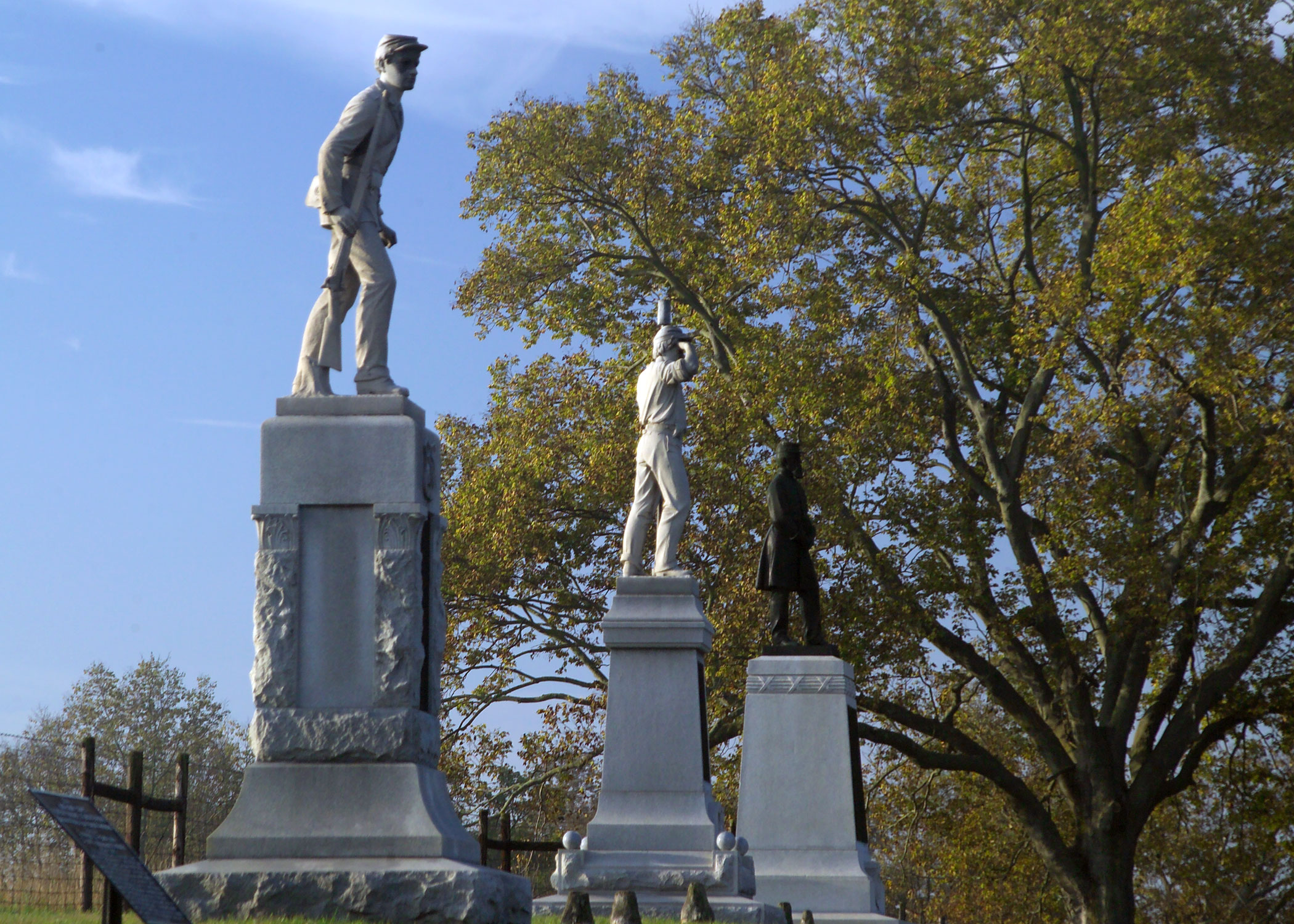 Antietam Monuments via NPS
As I was approaching the 21ish-mile aid station, a volunteer thrust a cup out at me and said, "Cough syrup?"
I gave her the look of death and her smirk quickly faded as she stuttered, "Kidding, its water. Sorry, its water." I felt bad - I know she was trying to be funny and she must be tired from working the aid station for almost 4 hours (I'm not being facetious here), but I wasn't sure if she was mocking Gatorade by calling it cough syrup--meaning she was therefore holding a cup of Gatorade--or if she was just bored and looking for laughs, which turns out is what she was doing. I only drink water on my long runs; even
Nuun
messes with my stomach. So I didn't want Gatorade coming anywhere near my lips. This interaction irked me a bit, but whatevs. I really had no choice but to take it in stride (pun intended! hehe).
Mile 16: 10:58
Mile 17: 8:55
Mile 18: 8:50 (Confusing. Must've walked this hill hella fast?)
Mile 19: 9:59
Mile 20: 10:25 (Not sure what I was doing here.)
Mile 21: 9:35
Miles 22-26.2!
Soon we were out of the hills of Antietam and running through the streets of Sharpsburg. I was so happy to see DJ Research and Nugget cheering for me! Later I learned that just before I ran by, a deer had totally bandited the race. Was running alongside the runners and everything.
It appeared the deer bandit seemed to be using
the Jeff Galloway Run-Walk-Run method.
It was at this point, around mile 23, that I hit the wall. I had never hit the wall before, and I didn't know what it felt like, but well...now I know. You guys, I have never felt like this before. Feeling like you wanted more than anything to give up, but knowing there was no way you could live with yourself if you did. It was intense. I am a very independent and self-sufficient person, but in that dark place it dawned on my that I
needed
someone. Someone, anyone, to tell me that I could do this. To tell me that I could finish this darn race. That I could keep running and cross that finish line.
So, as I was approaching a group of walkers from the half-marathon, I was completely intending scream into their blissful, comfortable fitness dreamworld, "I NEED YOU TO TELL ME I CAN DO THIS! I NEED YOU TO TELL ME I CAN FINISH THIS DAMN RACE!" But at the last second my dignity grabbed me by the shoulders and slapped me across the face. Instead, I didn't say anything. Instead, I dug deep and told myself, "Don't stop. Don't stop. Don't stop." I said it out loud, with every breath, "Don't stop. Don't stop. Don't stop." I said it out loud to the very end.
In hindsight, I realize that I had forgotten to take my last
Gu Gel
pack. I was carrying 5 gels with me, and had taken one every 4-5 miles: 5, 10, 14, 18. I should have taken another one at mile 22/23. But I completely forgot. I don't know if taking that last gel would have prevented hitting the wall, but I know the last 5 miles of the race would have been easier.
I saw DJ Research and Nugget as I entered the stadium, and when my feet hit the astroturf, I almost cried with joy. I crossed the line at 3:52:50 with my arms in the air, and my head down. I had beat my sub-4:00 hour goal, but it had taken all I had.
The DJ found me and gave me a big hug. I started crying into his should, "I did it! I did it!" I grabbed Nugget and held him close, and he gave me a cute little toddler squeeze back. "Mommy, run-run! Yaaaay!" He told me, clapping his hands. It was the perfect end to a tough but rewarding race. It was the best feeling.
What's your proudest racing moment?
RAR!